This Course is currently being updated – Existing members can still Login above
"One of the biggest myths is that only some people can draw & paint"
People say it is too hard for just anyone to paint and only 'real' artist born with the skill can produce good work.
I started the 'Will Kemp Art Studio' to prove that this is just not true.
Prior to painting full time I've worked in Museums, taught in schools, set up and ran my own gallery for 5 years and have taught hundreds of people to paint and draw over the last 15 years.
What my students say:
"Thanks for this video Will. The detailed organization, preparation and finishing are not usually available in "normal" art videos so it was very helpful to say the least. Yes, my painting turned out far better than I could have imagined -"
Celine – Norwich U.K

"I love the finished painting very much and probably will try to paint it again for the second, third time."
Naruemon – New York
Still Life – Missy
I really think Missy has done incredibly well. The jug shape and form is spot on and the glow on the lemon is lovely. I like the way she has managed to keep colours in the shadow of the lemon yet still keep the tone correct, really nice painting.
"I just didn't know where to start."  I feel like I'm getting the base that I have been looking for.  I've been trying to start painting for years and keep getting frustrated and stop.  I've also taken other painting classes and haven't learned what I have really wanted to learn.
Melissa Strand – Wyoming Minnesota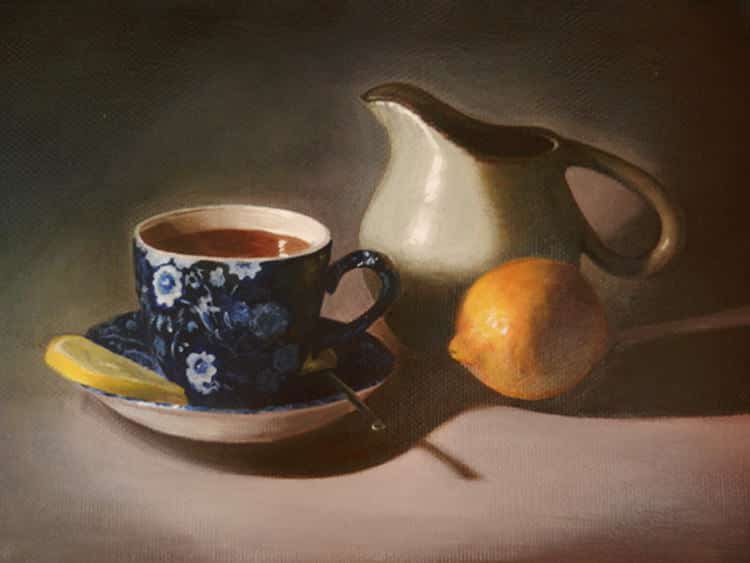 Still Life – Svetlana
I think the way Svetlana has painted the detail and sensitivity on the cup is lovely, I especially like the way she has painted the lemon slice, students often paint it too bright but she has handled is really well.
The  spoon is also particularly elegant,  a brilliant job of her first painting!
"I really enjoyed the course. It inspired me to take another one on drawing and it happened as early as lesson 4 when I saw that I can draw. We are really proud. All of us. My husband appreciated the darkness of background…
This is just to say once again how deep is my gratefulness . I am absolutely new early beginner. And I am so lucky to have you as my first teacher."
Svetlana – Russia

"The 3 most common creative blocks."
As a teacher the most common problems students come to me with are :
The fear of getting it wrong
I don't know what to paint!
Lack of time
I've developed "The Art of Acrylics" to help aspiring artists to fulfill their creative potential and overcome these creative stumbling blocks.
"Simple, Step-by-step, Successful results"
Will Kemp
The fear of getting it wrong
Only using 5 colours and you'll be shown clearly how to mix and match each colour
Filmed in real time, start to finish so you can't get lost. Revisit each lesson as many times as you need until you 'get it'
With acrylics you can repaint over any mistakes simply and easily
I don't know what to paint!
Downloadable high resolution still life images to work from
Composition designed by Will to give the best results possible
Stops procrastination by giving you 12 bite-size video tutorials that produce successful results
Lack of time
Clear time indication on each lesson so you can fit short bursts of creativity into your lifestyle
Access it anywhere, computer or ipad
No planning needed, everything has been worked out to produce the best results in the shortest amount of time
The Art of Acrylics is your step-by-step guide to getting started in acrylic painting today.
This 12 part course will provide you with a complete methodology for creating professional, beautiful, still life acrylic paintings.

How to create still life paintings with over 2 1/2 hours of tuition with artist Will Kemp.
How to prepare your canvas, block in colours, and accurately mix colours.
How to use glazing & mediums to create a professional finish with quick and easy tools.
Seven Painting Success Principles for acrylic painting.
Your blueprint for creating professional acrylic still life paintings with the 'wow' factor.
All videos can now be downloaded to your computer – for working in your studio without the need for an internet connection.